Pretty boring week Vikings-wise, so I thought I'd do a recap of a Vikings game from happier times -- specifically, the 1998 season. This is the Wild Card game on New Year's Day of 1999 against the Arizona Cardinals.
This game is coming to you TAPED from the Metrodome with your hosts Pat Summerall and John Madden! Just hearing Summerall's voice puts a hop in my step.
Vikings receive the ball to start as Summerall introduces the starting offense. "This is the SECOND Randall Cunningham," he begins to say, but uh... doesn't finish his thought for some reason. Poor Pat was getting up there at this point. I think what he meant was this was a much different Cunningham than how he started his career.
Anyway, the rest of the lineup reads like a Pro-Bowl roster. Randall McDaniel. Jeff Christy. Korey Stringer. Robert Smith. Randy Moss. Cris Carter. Jake Reed. Andrew Glover. David Palmer on 3rd downs. Leroy Hoard for short yardage.
Notice I left out Todd Steussie. The only time you heard him mentioned was when the referee called a false start, which is exactly what happens the 2nd play of the game. Yeah, when I think of the '98 season, this is one part I do not miss.
Vikings quickly get to 3rd and 6, where its noted that they are an insane 51% for converting third downs. A quick bit of research shows only the '99 Rams, '06 Colts and '11 Saints were better over an entire season since then. A big part of that percentage is David Palmer who catches one over the middle for an easy 1st. Seriously, Palmer was the most under appreciated part of this offense.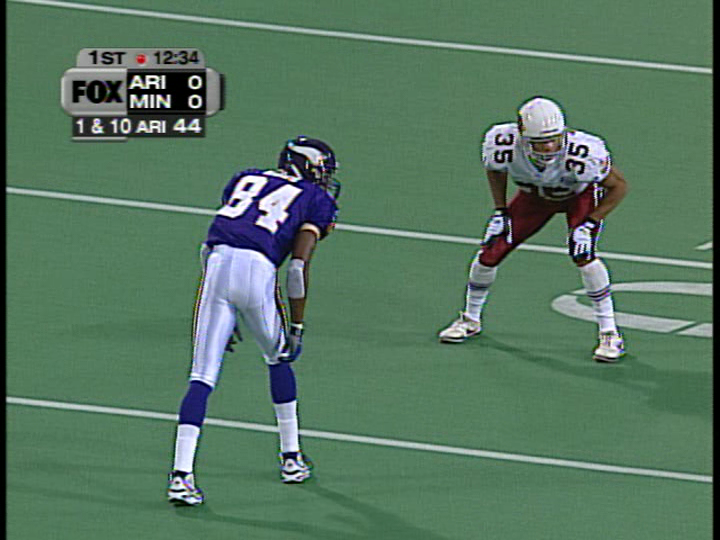 Two should-be Hall of Famers going head to head here, Randy Moss vs. Aeneas Williams. Cunningham hasn't looked once in his direction, instead getting the ball to Carter, Robert Smith and Leeee-royyyy HOAAAAARD (Summerall's enunciation) as the Vikings drive inside the Arizona 30. Madden takes the opportunity to go on about the offensive line.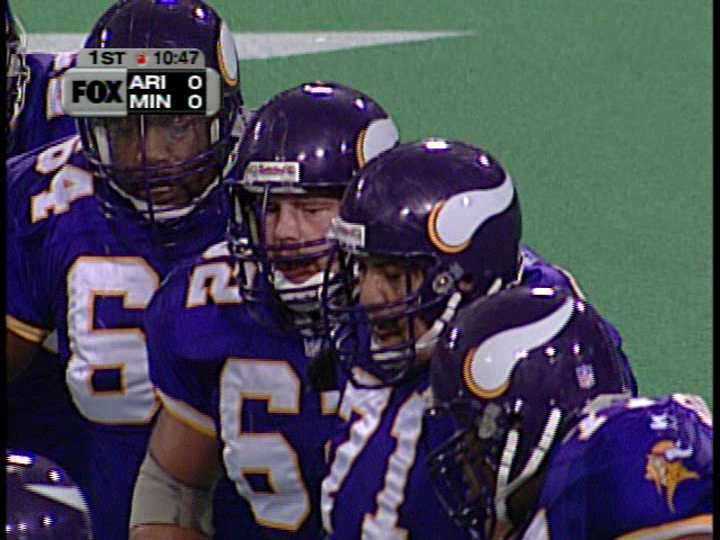 "If you don't have these guys right here, if you don't have this group, then you can have all the Randy Mosses and Cris Carters and Robert Smiths and all the other guys you want, but it's academic. The first thing that happens is these guys have to block." Well said. Sure, Madden said that in every single game ever, about every o-line (he even said it in the video game), but it's still well said.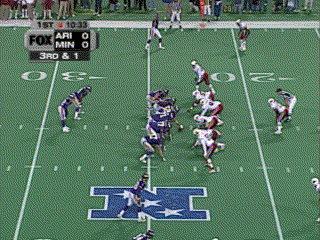 On 3rd and 1, Palmer lines up at QB with Cunningham wide left. OMG WILDCAT!~!~1!(#@(~! Palmer scampers for 10 yards to the right side, first down.
More Smith and Hoard lead the Vikings to 1st and Goal until Hoard pounds it in. "They make it look so simple, they get it done with such ease," says Summerall. Madden follows up, "This drive was surgery. The Minnesota Vikings just performed surgery on the Arizona Cardinals defense." Bear in mind, Moss didn't even get a look, let alone a throw in his direction. Neither did Jake Reed or Andrew Glover. Damned impressive.
Eric Metcalf (!) returns the ensuing kick to the 27. Adrian Murrell runs for -1, Jake Plummer is nearly picked off by Corey Fuller, 5 yard delay of game, incomplete to Frank Sanders. Not an inspiring start for Arizona.
Summerall says something curious, "Don't make too many gambles, Jake. They'll put this game out of reach in a hurry." I guarantee you if Joe Buck says something like that, people would be marching toward the booth with torches and pitchforks. It sounds like he's blatantly rooting for Arizona but I think he just knew the blowout potential here and wanted a competitive game.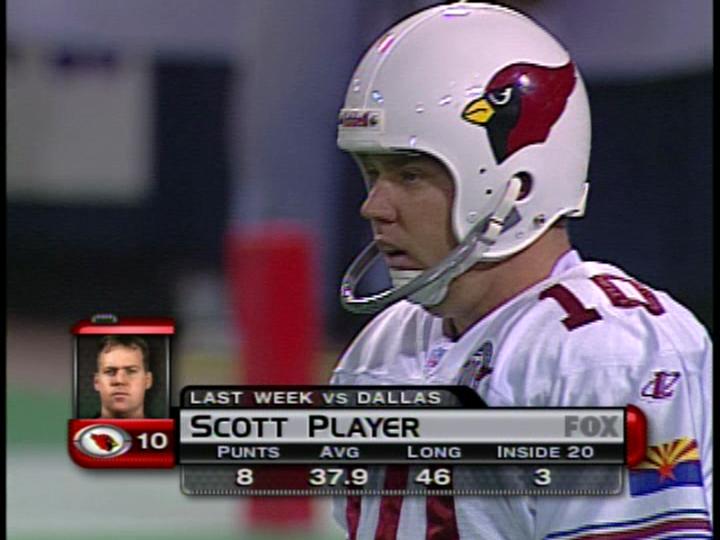 Now, if there's any reason to root for Arizona, it's that guy.
Vikings get right back to work with Palmer under center again, and Madden goes nuts as Cunningham actually throws a block on the play.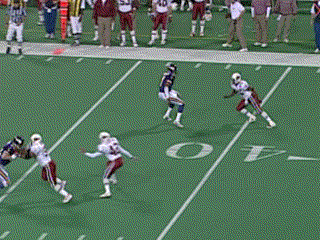 Nobody makes a "Is that Randall Cunningham or Randall McDaniel out there?" joke, despite that Summerall called Cunningham "McDaniel" by accident that season at least twice a game. Meanwhile, here's how the Vikings offense has operated thus far: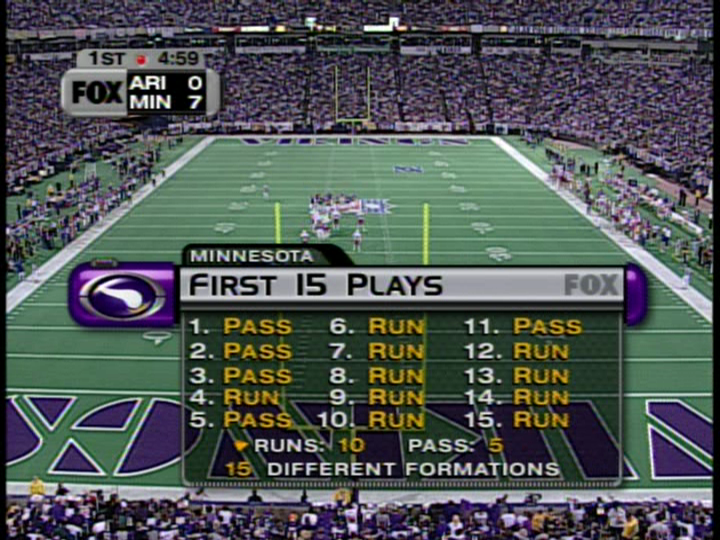 15 plays, 15 different formations. Smith and Palmer continue to be the feature guys so far today as the offense rolls right along.... until ANOTHER Steussie false start (seriously, he had at least two a game, like clockwork), and offensive coordinator Brian Billick gets a little too cute by having fullback Charles Evans take a carry (???). Seriously Billick was great at calling plays but he got a little too up his own ass at times.
Meanwhile, center Jeff Christy does exactly what I'd love to do to Steussie a couple times: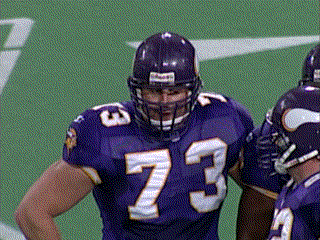 Notice that love-tap did little to change Steussie's "DUHHHH" expression. Of course Madden absolutely loves this. "WHAP!"
The first quarter ends with the Vikings 1st and Goal, and the Cardinals offense only seeing the field for 54 seconds. Sadly, just as I'm about to point out Moss hasn't been involved yet, Cunningham opens the 2nd quarter by forcing Moss' way and is picked off by Williams, running it back 40 yards.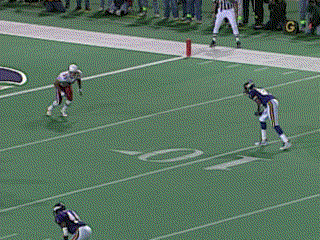 Smart read by Williams, not much effort by Moss (surprise, surprise), and a terrible, Mark-Sanchez type decision from Cunningham. That's what it looks like to force it to someone.
Thankfully for the Vikings, Jake Plummer and the Cards offense is a disaster, only able to move the ball via dubious pass interference and off-sides penalties. Robert Griffith picks off an errant Plummer pass to get the Vikes' offense back on the field and promptly throw deep to Randy Moss, who blatantly pushes Williams out of the way to go up and grab it.
Now THAT'S how you're supposed to force a ball to Moss. However...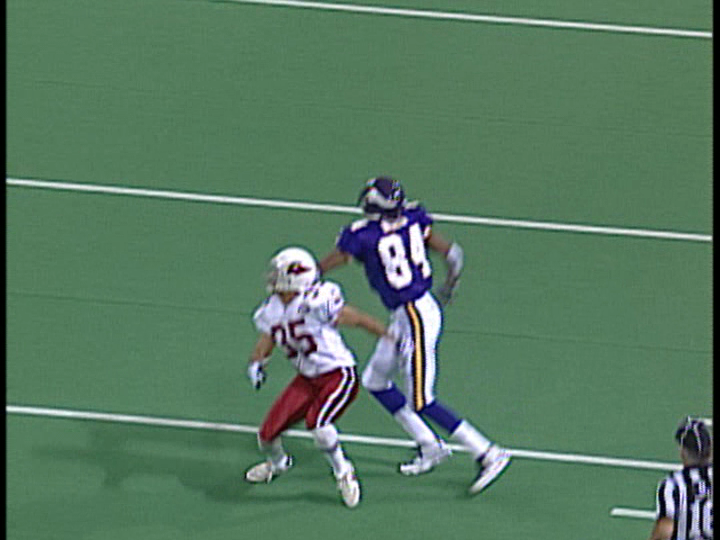 Today, a shove that blatant is getting called 99 out of 100 times, but back then, go ahead and backhand the guy out of the way. Madden takes this opportunity to say "dawg" four different times. "Just chuck it deep dawg and I'll go get it."
Three plays later, Andrew Glover catches a pass in the end zone on a post route, 14-0 Vikings. Summerall: "We haven't mentioned him yet." Madden: "Naw, we haven't
gotten
to him yet!" Good lord, they made it look so easy.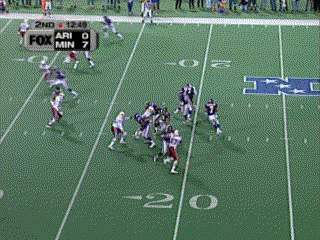 Jake Plummer immediately follows that up with a ghastly interception straight to Robert Griffith, his 2nd of the game. Plummer overthrew Frank Sanders by about five yards.
His expression is Cutler-esque. Anyway, Smith runs for 8, Andre Wadsworth (remember him?) bats down a pass, Cunningham takes a sack, so Gary Anderson hits a field goal (remember when he was able to do that?) and all of a sudden it's 17-0 with 11 minutes left in the first half. Dominance.
Arizona finally calms the hell down and gets some momentum on offense, picking up a first down on a nice 3rd and 3 fade to Rob Moore. The Vikes defense helps them out with two offsides penalties in a row giving the Cards the ball inside the Vikings 25. Plummer gets Frank Sanders and Larry Centers involved on a couple crossing routes, leading to an obvious Corey Fuller pass interference call in the end zone. Vikings defense makes a nice goal line stand, until who else but Dwayne Rudd (hello, any Browns fans reading this) gets called for roughing the passer on 4th down. Dumb penalties plus zero pass-rush equals a Vikings defense that looks lackluster. Cards take advantage as Mario Bates runs it in from 1 yard out for a touchdown. 17-7 Vikings.
Thank god for the Vikings offense. They respond immediately with Smith tearing through the middle for 32 yards.
Arizona sticks to the nickel defense, so the Vikings continue to run it up the middle with Smith and HOAAARRRD despite there being less than 2 minutes left in the half. 32 seconds left, Cunningham scrambles to buy time, finds HOOOOAAARD in the flat who sneaks it over the pylon to make it 24-7 at the half. 8 plays, 74 yards, easy peasy.
Mitch Berger kicks off which allows Madden to tell the "He keeps a Snickers in his shoe" bit for what had to be the 400th time that season.
We get this exchange:
Madden: "Of all the guys I've coached, anytime that a guy would have a candy bar like that, someone else would eat it. I don't know why the other players leave him alone."
Summerall: "Because it's in his shoe!"
Madden: "Yeah, but it's wrapped! I'd eat a candy bar out of a shoe."
That, folks, is one small example of why they were the greatest announcers of all time. Anyway, we've reached halftime, here's the stats: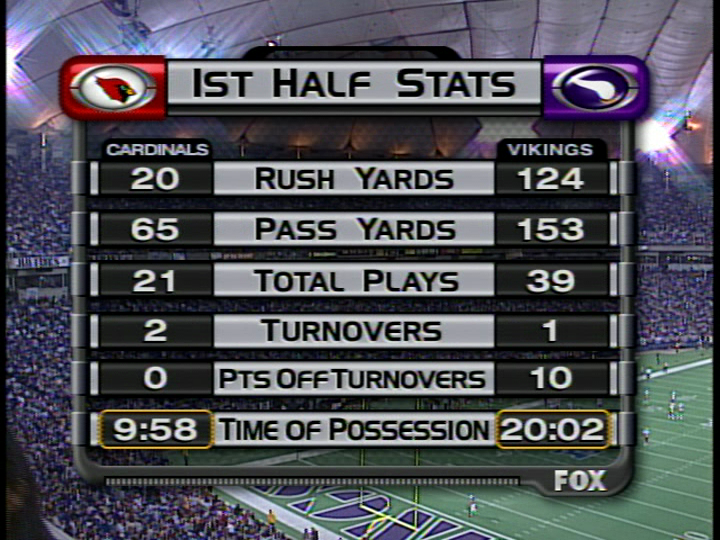 The 2nd half starts with Murrell driving Arizona inside the Vikings 30, where Plummer makes a really nice play on third down completing a crazy pass behind him to Moore for a big gain. The Vikes defense allows another TD to Bates on 4th and goal from the 1 to make it 24-14.
No big deal. David Palmer returns the ensuing kick all the way to the 44, and a flea-flicker to Cris Carter has the Vikings inside the Arizona 5, just like that. They can't seal the deal and settle for a field goal but the point remains: the defense was almost irrelevant. It's really amazing to watch. Yes, yes we all know how it ended, but I think people really get lost in that and forget how unstoppable this offense really was.
In fact just to give a better idea, I'm going to try and piece together a modern equivalent of a roster like this to better get the point across to how loaded this team was:
The offensive line is similar to the line the Vikings had just a few years ago when Matt Birk was still around. Both had serviceable but overrated LTs (Steussie and McKinnie), All-World LGs (McDaniel and Hutchinson), occasional All-Pro centers (Christy and Birk) and solid RGs (Dixon and Herrera). The only comparison that wouldn't fit is Korey Stringer, who was head and shoulders above any other RT the Vikings have had since. He was closer to a David Stewart type from the Titans.
Cunningham's 2013 contemporary -- Stylistically they're very different but imagine if Phil Rivers, who is in the process of crashing and burning in San Diego just as Cunningham did in Philly, quietly went to the Vikings as a backup and totally re-invigorated himself while retooling how he plays.
Robert Smith -- Trouble with injuries off and on, very fast, dual threat out of the backfield, under-appreciated on a national level. Sounds like Matt Forte.
Leroy Hoard -- "If you need one yard, I'll get ya three yards. If you need five yards, I'll get ya three yards." The perfect compliment to Smith. But I can't really think of a modern guy like this. I'd say maybe Brandon Jacobs but he was gigantic. Hoard was 5'11". Michael Bush is the best I can think of, but Hoard was much better than that guy.
Randy Moss -- Who the hell do you compare Randy Moss to? I would guess the closest comparison to his size/speed combo nowadays is Calvin Johnson, but still, there's only one Randy Moss.
Cris Carter -- The best possible #2 receiver you could ask for. Hall of Fame hands, been around the block, always seems to get open somehow. Sounds like Reggie Wayne.
Andrew Glover -- A ginormous dude who compares to Martellus Bennett, only not an idiot.
Jake Reed -- The forgotten man of Three Deep had four straight 1000 yard seasons coming into 1998 before only catching 34 passes for 474 yards in 11 games. Tall guy with deceptive speed and good hands who would've been at least a #2 wideout on any other team. He had comparable size and stats (right down to the occasional injury) to Marques Colston before Moss showed up.
Anyway, back to the game, which is a mere formality at this point. CB Jimmy Hitchcock drops an easy pick-6 from Plummer, who refuses to give up on turning it over by dropping a snap. Vikings recover, touchdown Randy Moss, 34-14. Ho hum. Moss' 8th straight game with a touchdown catch.
The rest of the game is rinse and repeat: Vikings defense bends and bends, giving up the occasional score, Arizona has the occasional bumble, and the Vikes offense controls the game, with the exception of a punt, their first of the game 14:51 of the 4th.
Other highlights: Summerall calling Eric Metcalf "Terry," his dad, to which Madden quips, "Well, Terry was in the league the last time the Cards were in the playoffs." Also, Madden describing the Metrodome as "kind of a dull place" up until '98, as well as saying Jake Plummer "will be a superstar in this league."
The Vikes give up another score (Bates scored all three Cards TDs, nice bit of trivia there), Leroy Hoard pounds in another, and the final score ends up being 41-21, an exercise of dominance by the Vikings offense.
The point of this is just a friendly reminder: 1998 wasn't just one game, and you know which one I'm referring to. The rest of that season was pretty damned amazing and it shouldn't be ignored, especially this game.