A while back, I wrote something chronicling my
unspeakable pain and agony that certain baseball cards gave me
. Since that was so cathartic, and since my medical insurance is footing the bill, I decided to do the same thing for football, basketball and hockey cards.
We'll start with football...
Dan McGwire - 1991 Upper Deck "Rookie Force"
Value circa October 1991 -
$2.75
Current worth -
NOTHING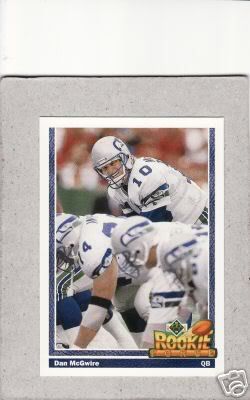 Clearly, there was no greater ROOKIE FORCE than Dan McGwire. But really, I picked this one out to represent every crappy first round QB drafted in the late '80s and early '90s whose cards were in demand despite that they hadn't played a down yet. I could have gone in a multitude of directions (David Klingler, Andre Ware, or even the almighty Jeff George), but I remember this card in particular because my warped child logic dictated that he HAD to be good, because his last name is McGwire. Whoa, you mean he's Mark McGwire's brother? He HAS to be good! Unfortunately, even if Dan got jacked up on as many roids as Mark, that probably still wouldn't have made a difference.
Career Stats -
5 starts, 74 completions in 148 attempts for 745 yards, 2 TDs and 6 INTs in five years with Seattle.
What's he doing now? -
Doing shots with Stan Gelbaugh and Kelly Stouffer at a Seattle dive bar.
Don Majkowski - 1989 Topps
Value circa October 1991 -
$1.10
Current worth -
NOTHING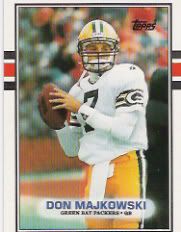 I'm sure Packers fans remember this card. Okay, so it was only worth $1.10 in late '91, but that's STILL a lot to a 9 year old kid. Based on the hype he got after a really good 1989 season (4300+ yards, 27 TDs), Majkowski was supposed to be what Favre ended up being. I'm of the belief that the value of his cards was spurned by a couple things: everyone wanted the Packers to be good again after being horrible throughout the '80s (kind of like rooting for an Original 6 team to be relevant again in hockey), and he had the best nickname ever, the "Majik Man". Unfortunately for him, defenses eventually responded to that with "Magic is spelled with a G, douchebag", and he was gone from Green Bay by 1992.
Career stats -
93 starts, 55.4% completion rate, 12,700 yards, 66 TDs, 67 INTs
What's he doing now? -
Proving that the nickname does not apply to guitar playing either
.
Barry Sanders - 1989 Score
Value circa October 1991 -
$42.00
Current worth -
NOTHI... I mean, about the same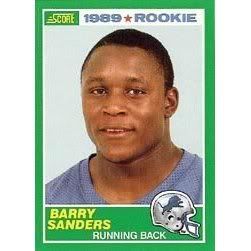 See now, this is what every kid hoped for as they got older. My buddy at the time got this card in a pack and was justifiably elated, then got to sit back and watch as Sanders turned out to be one of the best running backs ever. Normally, that would mean that the card should go UP in value, but the overinflated sports cards market would dictate that keeping a value as high as $42 the same for almost 20 years is just as well.
Career stats -
3rd all-time with 15,268 rushing yards, 99 TDs
What's he doing now? -
Making sure Emmitt Smith's cards aren't worth as much as his.
Onto hockey...
...yes, that's right, HOCK-EE, when you grow up in Minnesota, you become familiar with it...
Kevin Stevens - 1990-91 O-Pee-Chee Premier
Value circa June 1991 -
$2.50
Current worth -
NOTHING
I would have used his 1990-91 Upper Deck rookie, which every kid in Minnesota had, but the Internets doesn't seem to have a picture of it, which is pretty telling. Stevens was a pretty big part of the dominant early '90s Penguins teams that won two straight Stanley Cups. It's pretty ridiculous to think that team won only two, but part of the reason is because of a rather goofy yet devastating injury to Stevens, when he rammed his face into another player's visor, knocking him out and hitting the ice face first. Stevens would go on to play for a million other teams, kind like a really really low-rent Alexander Mogilny.
Career stats -
874 games, 329 goals, 726 points
What's he doing now? -
Following Brian Bellows everywhere he goes
. (Warning: strong language)
Pat Falloon - 1992-93 Upper Deck Young Guns
Value circa October 1992 -
$2.00
Current worth -
NOTHING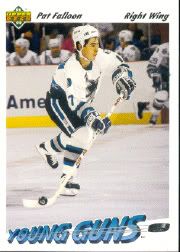 Fuckin' Pat Falloon. Goddammit. Those are usually the first four words that come out of my mouth anytime I come across anything even related to the San Jose Sharks, to this day. Here's a haiku to help ease my pain:
Prototypical
overhyped hockey prospect
I hate Pat Falloon
Career stats -
575 games, 143 goals, 322 points
What's he doing now? -
Hopefully legally changing his name to Fuckin' Pat Falloon Goddammit.
Either that, or learning how to do this in the hopes of reviving his career
.
Eric Lindros - ANY CARD EVER
Value circa whenever -
$934283748237498239.50
Current worth -
NOTHING
This one I'm not so bitter about, because I always hated Eric Lindros, ever since he pulled that BS on the Nordiques, which then led to the team moving out of Quebec, robbing the NHL and sports one of the best team nicknames, one of the best logos, and some of the best uniforms ever. Also, the hype this guy got at the time made Sidney Crosby seem like Anti Laaksonen in comparison. So now, allow me to belt out a Nelson-like "HA HA!" to anybody that ever splurged on a can't-miss Lindros rookie card. Dumbasses.
Career stats -
13 seasons (only 4 of which when he played more than 70 games), 372 goals, 865 points
What's he doing now? -
Visiting Quebec with his parents, I'm sure
.
We'll finish with basketball...
Harold Miner - 1992-93 Fleer Ultra Rookie
Value circa October 1992 -
$2.75
Current worth -
NOTHING
Everyone say it with me... Baby Jordan. BWAAHAHAHAHAHA! This card is particularly hilarious because it has the ever so poignant image of Miner shooting over Jordan's outstretched hand. The beginning of a hot rivalry! The passing of the torch! The Heat have arrived!...... Ah, NO.
Career stats - A whopping 4 seasons, 9.0 ppg, 1.2 apg, 2.2 rpg
What's he doing now? -
Learning how to use Adobe Premiere so he can make more ridiculously melodramatic videos like this
. This is 10 minutes long? Really? "Wow, check out that routine jump shot!"
Richard Dumas - 1992-93 Upper Deck
Value circa October 1992 -
$2.25
Current worth -
NOTHING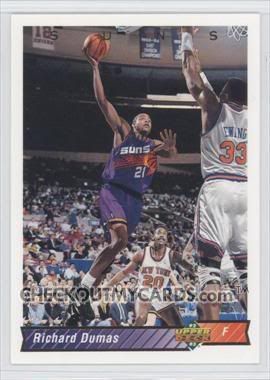 This card bums me out, first and foremost being that Richard Dumas was quite the badass player for those early '90s Suns teams, until drug habits killed his career. I was a fan of his in the early going after watching him play, and I was ticked that he never had a cool looking card that said "Rookie" on it or anything, since he kind of came out of nowhere. Furthermore, I was ticked at Upper Deck for coming out with such a LAMEASS design for their 92-93 cards.
Career stats -
10.6 ppg, 3.4 rpg, 1.1 apg over 3 seasons
What's he doing now? -
Making sure his name is pronounced correctly
.
Larry Johnson - 1991-92 Upper Deck "NBA Draft"
Value circa October 1992 -
$9.50
Current worth -
NOTHING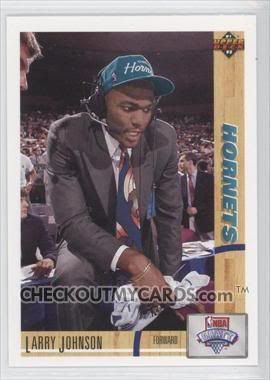 This card REALLY bums me out. I got this in one of my first ever packs of basketball cards, which instantly made LJ my favorite player. I spent like a month's worth of chores and whatever on Larry Johnson cards when I was 10 or so. Sadly, he quickly became saddled with the absolute worst ad campaign in recorded history, and the worst yet prophetic nickname, "Grandmama". He ended up gaining weight, throwing a fit that he wasn't The Man and paid as such in Charlotte, and going to the Knicks to become a part of one of the most unwatchable teams in history that nearly killed the NBA. Give me a sec, I need a couple shots of scotch...
Career stats -
16.2 ppg, 7.5 rpg, 3.3 apg over 10 seasons
What's he doing now? -
Hopefully not still dressing like this
.
Once again, thanks as always to
checkoutmycards.com