After watching Total Recall for the 497th time this weekend, I felt it would be apt to recast the movie with NFL teams based on how they've looked so far this season. If you haven't seen Total Recall, go! GO! NOW-UH! GET DIS PEOPLE DA AIR-UH!
Midget Hooker
- The plucky, likable undersized/undermanned underdog in the movie has got to be the Kansas City Chiefs. Sure it's unlikely they'll sustain this run, but they took a machine gun to the Chargers (as fluke-tastic as it was) and the Browns, and then
stabbed the fraudulent Niners in the groin
earlier today.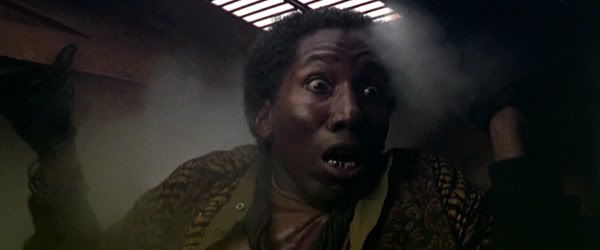 Benny
the Cab Driver
- Speaking of the Niners, they fit the Benny role perfectly. He seems like an everyday good guy at first ("I've got fiiiiive kids to feed!") but - SPOILER ALERT - later reveals that he's been working with Cohaagen the entire time to ensure Quaid fulfills his task.
The theme is betrayal, and nobody fits that so far like the Niners, the supposed NFC West favorites (akin to being the most handsome mutant) whose main strength (their defense) has looked bottom 5 bad. Mike Singletary is looking more and more like the second coming of Mike Tice, a fine "players coach" who's a great soundbyte but is completely overmatched tactically and strategically.
I was tempted to go with the Cowboys here but they won today. Bennie's mutant arm even looks exactly like Jerry Jones' latest facelift.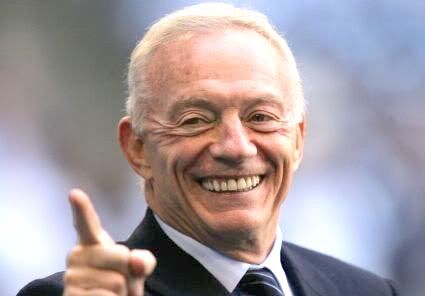 See? It's uncanny.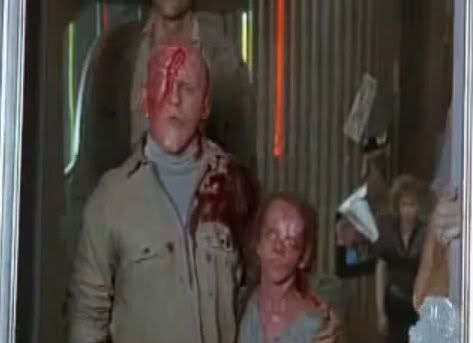 Tony
- The Pittsburgh Steelers have personified winning ugly throughout their team history, and nobody has ever been quite as ugly in cinematic history as the valiant Tony, who apparently has a weeks-old raw Grade F porterhouse steak glued to his face.
Here's the obligatory Dan Dierdorf-esque unqualified exaggerated statement brought to you by
Rekall
: I'm not so sure that Troy Polamalu isn't more valuable to their team than anyone else in the National Football League. (Translation: Polamalu should get MVP consideration this year if their defense keeps this up.) When he got hurt in Week 1 last year, their D wasn't close to being the same. They went 5-7 without him last year including a dreadful 5 game losing streak that effectively ended their season. Since he's healthy again, they're back to being a top 3 defense and Super Bowl contenders.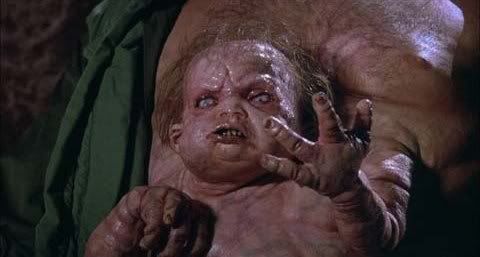 Kuato
- Since Kuato reminds me of Al Davis (there's a 50/50 chance he's actually dead and there's a mutant being living in his torso that can read people's minds, right? That's not unreasonable), how about giving this to the Raiders for benching Jason Campbell and going with... Bruce Gradkowski?
It's worked wonders as the offense has been rejuvenated to the point that Darren McFailden is closer than ever to shedding his nickname and Zach Miller could become a household name. I know they lost, to Arizona no less, but I'm still on the Raiders bandwagon. Janikowski missed 3 field goals that game and they lose by 1, go figure. People are caught up on the Chiefs being 3-0, but don't sleep on the Raiders just yet.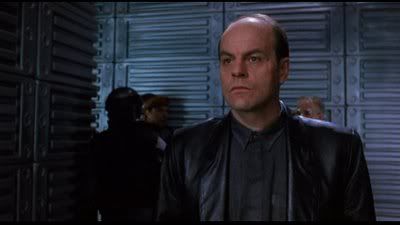 Richter
- One of the stupidest villains in action movie history meshes up well with one of the stupidest decisions made so far this year: Chargers GM AJ Smith not signing or trading Vincent Jackson. There were at least 3 throws up for grabs late in Seattle that he definitely would have come down with. Regardless of how many yards Phil Rivers throws up, the Chargers have no red zone targets if Gates can't shed his double-team. It's a shame because Jackson is a really fun player to watch, and his presence alone makes them a top 5 offense. Without him, they move the ball great between the 20s, but that's it. They're like the AFC version of Dallas.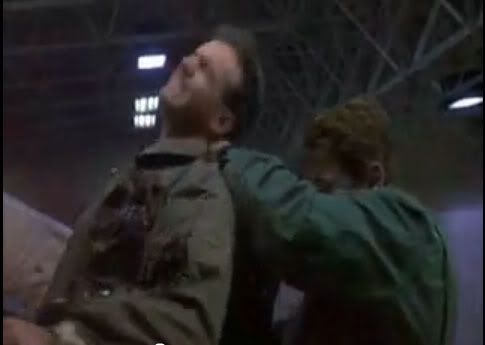 Corpse Filled With Bullets Going Up Escalator
- What better way to describe the Buffalo Bills? It's also worth noting that in a movie with at least 779 things that would never ever be allowed to be released today, this ranks as #1.
Chick With Three Tits
- The New England Patriots defense has been the biggest random "WTF?" this season, giving up boatloads of yards to Carson Palmer's corpse in Week 1, letting Mark Sanchez look like... well, someone who's actually good in Week 2, and giving up 30 points to the waterlogged Bills in Week 3. I never thought a Bill Belichick defense could look this bad.
Apologies for passing on Rex Ryan, who's probably got three tits lurking underneath that XXXXL sweatshirt.
Give him a break, he needs a goddamn snack.
Everett
- One of my favorite villains ever, Gul Dukat from Star Trek: Deep Space Nine, is in this movie as Police Chief Everett. I just wanted to point this out, because Marc Alaimo is awesome and should've played Magneto in the X-Men movies.
Lori
- I hate, HATE using the term "sexy" to describe something in sports, but the New York Jets were undoubtedly the 2010 Sexy Training Camp World Champions Presented by Axe Body Spray. Congratulations!
Meanwhile, there's actually a season to play, and they've alternated between looking abysmal and looking great, sometimes both at once. Their defense is still capable of being top 5, but Miami moved the ball at will tonight. And who the hell knows what they're getting from the offense from week to week? Of course it doesn't help that their guys can't help but get suspended every other day. Build a team on low-character guys, and you'll get low-character results. Imagine that!
But once Santonio Holmes comes back, that'll put a big bandaid over everything, right? Wait, who's throwing him the ball again? Rick Mirer 2.0? Oh yeah.
Also, Sharon Stone is off-the-charts hot in this movie. 10 out of 10. If I ranked every single awesome thing about this movie, all 9,498 of them, she would be in the top 3 easily.
Cohaagen
- Who else but Bill Parcells, the NFL's original evil genius? He's made some "shady" (read: asshole-ish) moves in the past, openly ditching New England for New York despite contractual obligations, and screwing with the Bucs in 1992 on a "
handshake deal
" to become their next coach. But he's done a hell of a job with the Dolphins. (He's since gone as Team Executive VP but this team is his doing through and through)
Despite everyone constantly misspelling his last name, Tony Sparano was a great hire. They're built like an old school 80s team - start with the lines, go from there. And their o- and d-lines are as good as it gets this year. QB Chad Henne looks capable, especially when complimented with legit big play guys Ronnie Brown, Ricky Williams and Brandon Marshall. The secondary is also a strength - Brett Favre described CB Vonte Davis as, "the best cornerback in the league nobody's heard of," and I have to agree with him. Parcells very quietly put together a potentially great team in Miami.
Hauser
- Arnold spazzing out after having triggered "erased" memories as Hauser is one of my favorite Arnold scenes ever. "YOU BLEW MY COVAAAHHH! DEY'LL KILL YOU ALLLLL! GAAAHHRHREUHFAJHFAJHFDJHAF" There's only one spaz in the NFL who matches him expression for rubber-faced-expression, the only guy who pulls this routine practically every week:
Philip
Rivers
.
What a dork
.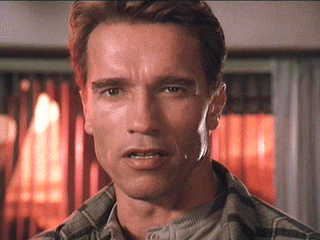 Quaid
- The valiant superhero, solid as a rock, always reliable... has to be the Indianapolis Colts. Another year, another 12 wins, another deep playoff run. Even Colts fans have to be somewhat bored with it at this point.
Quaid's Exploding Head
- Me, watching the Vikings offense. That might as well be Brad Johnson back there. Any semblance of last year's Brett Favre is long gone, Rice or no Rice. The only way the Vikings are making the playoffs are if Adrian Peterson wills them there, which is definitely not out of the question.
However, I'm ready to say this: the days of being a Super Bowl contender in the Childress Era are gone. We've seen his
Perfect Storm
. He's had enough time now to see his coaching ideals realized and collect the personnel reflect those ideals. We've seen his best, in other words. I can't help but shake the feeling that we're just treading water until we're bad enough for him to be fired, just like the Denny Green Era. I could be wrong, but I doubt it. I've seen this movie before.