No Vikings game this week? No problem.
Minnesota Vikings 5 Greatest Games DVD set just came out a couple weeks ago. Despite the disappointing lineup of games (2008 Week 17 vs. the Giants backups?? A Wildcard win against the Cowboys in '99?? Where's the MNF against GB in '98, dammit!! Where are the games from the 70s!!) there is one game in particular that makes this worth every cent... the 1987 Divisional Playoff upset over the 49ers, otherwise known as the Anthony Carter Game.
We're coming to you TAPED from drizzly, gray San Francisco with... NOT Pat Summerall and John Madden???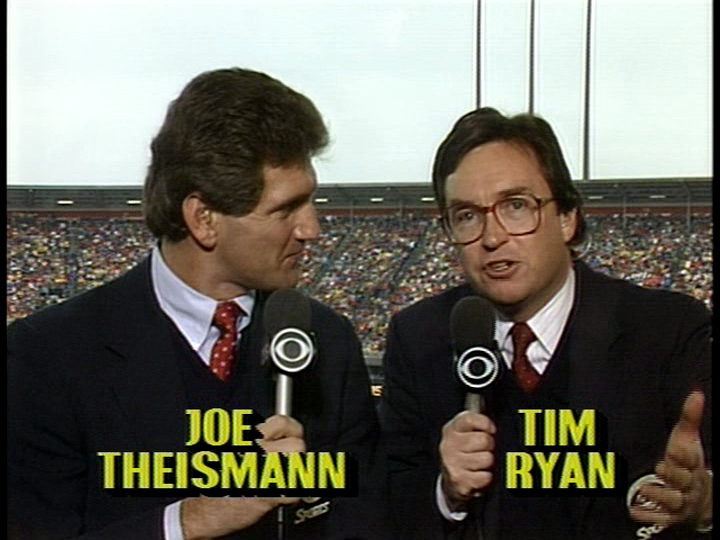 Dammit!! Ah well, as awesome as this game is, I can't complain too much. Theismann's annoying habits were merely in the embryonic stage, not in full bloom. And that guy has cool glasses.
Crowd is WAY into it early as the Vikings receive the kickoff, with Wade Wilson under center instead of the injured Two-Minute Tommy Kramer. (Both as complimentary and derogatory of a nickname as you could ask for.) The offense immediately throws down the gauntlet, with 1st down completions to Darrin Nelson and Anthony Carter, and Wade scrambling for 11 yards on a big 3rd down. They're at the San Fran 5 yard line in 11 plays. Very well done.
Bob Schnelker (the Vikes "much maligned" offensive coordinator, and that's putting it lightly) takes this opportunity to give DJ Dozier of all people his first handoff, for zero yards. Thanks for causing the Herschel Walker trade by sucking so badly, DJ. Wade then throws a LASER (well, for Wade) on 2nd down which is dropped by TE Carl Hilton. Jerry Burns is not happy.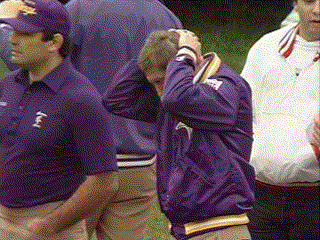 On 3rd down, Wade throws it into the first row. "Here we go again with the Vikings in the red zone," says Tim Ryan. Ugh. Chuck Nelson makes it 3-0 while every Vikings fan at the time is moaning and groaning at the missed opportunity, rightfully so.
The idiot Niners kick returner bobbles the kickoff and gets tackled at the 5 by... Neal Guggemos!! One of my favorite football names ever.
Swing pass right to Roger Craig for -2 yards, incomplete deep to Jerry Rice into double coverage, HB dive to Craig for 3 yards. That's right, the mighty Niners offense goes 3 and out, and they're forced to punt from the back of the end zone. Hell yes. Vikings ball at the 50.
The Vikes respond by matching their 3 and out, punting to again put the Niners inside their own 5. At least they're winning the special teams battle so far. And seriously, just getting the play-by-play guy to introduce the Niners lineup on their 2nd possession is an accomplishment on its own. Montana even calls timeout on 2nd and 10 because he's too screwed up by the Vikings D.
But then a few Same Old Vikings moments: a 15 yard late hit penalty on LB David Howard (or if Summerall were calling this game, David HOWWWWW-ard) as Montana scrambles out of bounds on 3rd and 10. An easy 15 yard pass to Craig. 29 yards to John Taylor on 2nd and 15. Despite this, the Niners do not look crisp by any stretch, partly because of the dreary weather, partly because of the Vikings consistent pass rush and tight pass coverage. They only get a field goal to tie it at 3...
...only to be greeted by more Same Old Vikings moments as Wade is picked off on a tipped pass by Ronnie Lott, or rather Ronnie Lott's gigantic shoulder pads. Seriously, how the hell can he even move in those things?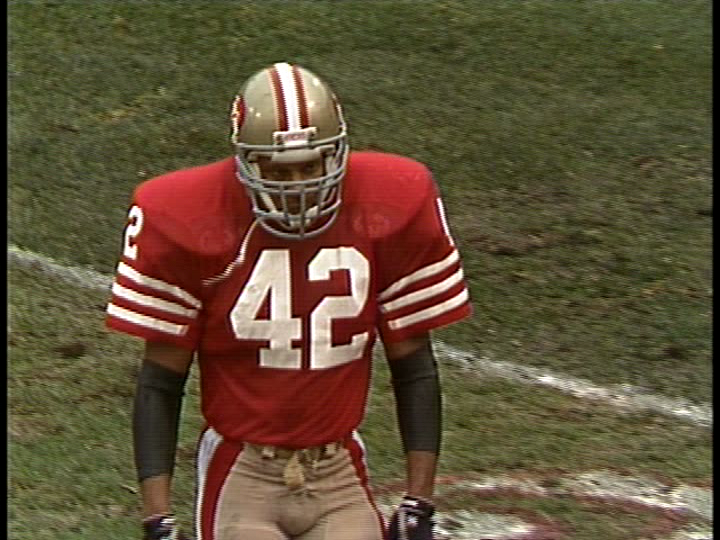 But wait! It's called back on pass interference? That NEVER happens. Iffy call that could've went either way.
The drive continues - AC bails out Wade on a play by recognizing the pressure and breaking off his route (14 yard catch), and on another play makes a beautiful sideline catch for a 1st down. Two minutes into the 2nd quarter, AC now has 5 catches for 62 yards, and nobody in the Niners secondary can keep up with him. Smart game plan by the Vikings - balancing perfectly between runs (only getting them 3 yards a pop, but still) and short passes (8 completions so far) to dominate time of possession and keep the Niners offense off the field.
Wade makes some nifty moves and scrambles for 12 yards and a first down inside the Niners 6, immediately followed by.... a TOUCHDOWN!!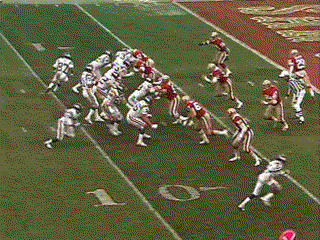 Quick pass to Hilton over the middle, making up for that drop earlier. That play was exactly like the old TE cross play that worked every single time in the original Madden game.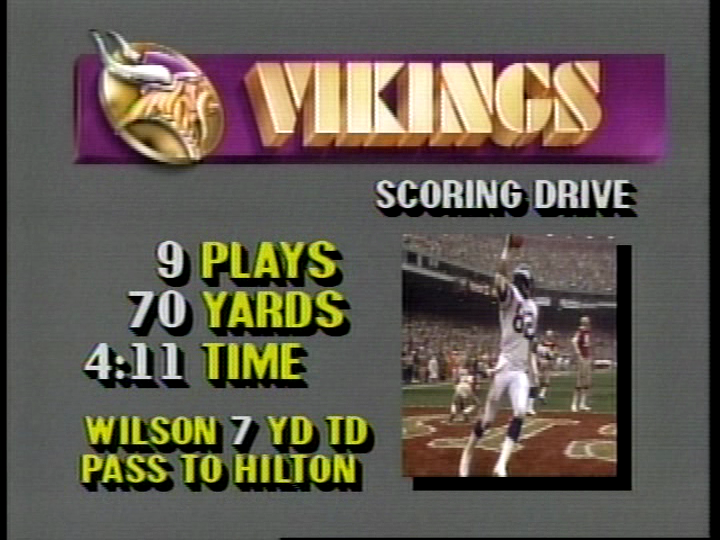 More evidence that this might be the Vikings day comes on the next Niners' drive - Rice makes a nifty catch for 17 yards, only to be called back on a tripping call. That results in a quick three and out as Montana is looking, dare I say, confused? He's had to check down a LOT, and on 3rd and long, he had all day to throw but nowhere to go.
(Should be noted that I'm getting very sick of Joe Theismann narrating every single detail in every replay - "There's the big hit and there goes the ball and there it goes out of bounds." Yes I can SEE that, you dolt.)
Play of the game comes on the next Vikings drive. 3rd and 10, AC runs a corner route down the left sideline, ball is underthrown, both AC and his guy get their hands on it at the same time, AC somehow grabs it off the tip and races another 40 yards to the Niners 10 yard line.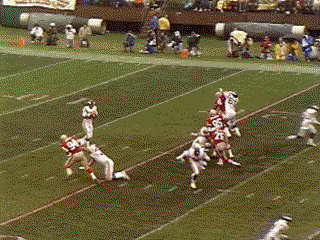 This sums it up so far: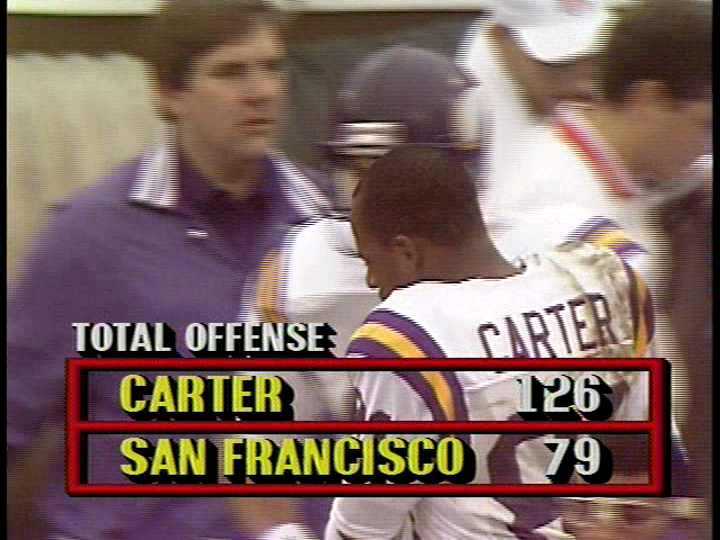 What comes next is a sequence that no doubt broke several hundred remotes across Minnesota. Alfred Anderson for 2 yards, Allen Rice for 2 yards, Darrin Nelson for 2 yards. All straight up the middle. Nobody did ghastly playcalling like Bob Schnelker. Field goal, 13-3 Vikings, 8:30 to go in the 1st half.
Thankfully, the Vikings continue to dominate on defense. Craig for -2 yards, Montana forces one over the middle to Rice in a sea of Vikings (incomplete), and... picked off by Reggie Rutland! He's gonna go all the way!! It's 20-3 Vikings!!!
Hard to believe this really happened. Montana looks terrible, Vikings defense looks unstoppable. These are not the Same Old Vikings.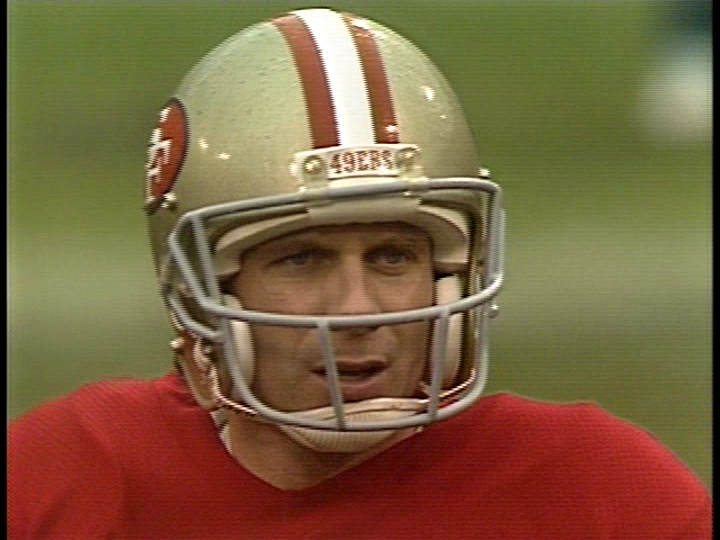 Ah, the old "What the hell do I do against these guys?" face. Niners go three and out again. The Vikings return the favor and punt as well, but Montana is forced to scramble out of bounds for a gain of 2, throw into double coverage incomplete to Rice, and get sacked by Chris Doleman. By the way, Jerry Rice: 0 catches for 0 yards.
Vikings punt again, going 2 yard Wade run, incomplete, incomplete, and... hey, check out who's looking in on the game!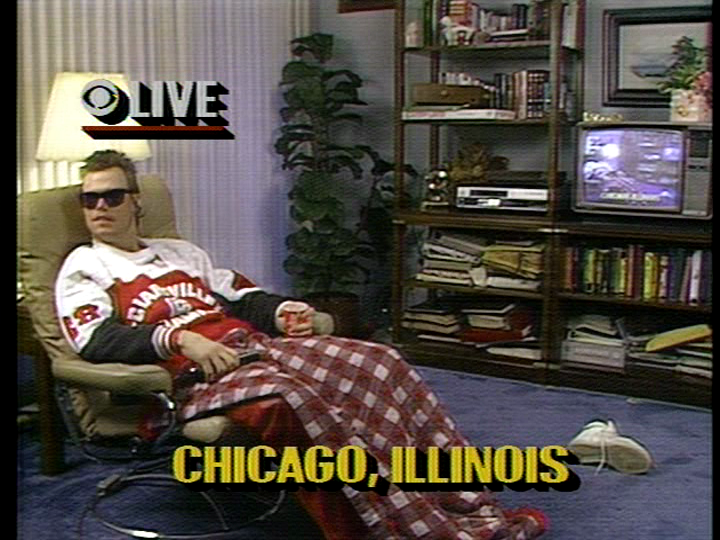 Sadly, Jim McMahon appears to have rejuvenated the Niners, who after getting great field position off a crappy Bucky Scribner punt (another awesome name) execute their two-minute drill to perfection. Craig and Montana run wild with tons of space in front of them, and Rice is finally able to catch a pass at the Vikings 5.
But incredibly, inexplicably, momentum shifts back to the Vikings. Scott Studwell blitzes up the middle for a sack, Tom Rathman catches a pass for a measly 2 yards, and Craig lets a pass bounce off his hands. Not only that, but they miss the field goal! EVERYTHING is going the Vikings way. These aren't the Same Old Vikings. Awesome to watch. Your halftime stats breakdown:
So, every sane Vikings fan at this point knows that the Niners get the ball the start the 2nd half, and there's a 100% chance they march down the field and score. Only it doesn't happen this time. ANOTHER 3 and out. Montana is now 11 for 23 for 104 yards, 0 TDs and 1 pick, very Carson Palmer-esque. That's right, Wade Wilson is outdueling Joe Montana.
And of course, as soon as I type this, Wade is picked off by safety Jeff Fuller who brings it back 48 yards to make it 20-10. DAMMIT!! Wade totally stared down his receiver. Terrible. Same Old Vikings.
Wade now thankfully decides to keep it safe by getting the ball to AC, who hauls in a 15 yarder and takes a reverse 30 yards. This leads to a Hassan Jones fade route... TOUCHDOWN!! 27-10 Vikings! That drive was major, MAJOR. Any Niners momentum has evaporated, and the crowd, after starting out sounding raucous, is completely out of it.
Niners manage a first down but have to punt again. It's hard to tell what exactly the Vikings are doing in the secondary that's giving Montana so much trouble because of the limited camera work (remember, this is when having a "Reverse Angle" was still somewhat new), but they're doing just an awesome job. Joe Cool has taken at least three coverage sacks so far.
Vikes go three and out, and then the unthinkable happens - the Niners BENCH Joe Montana! Steve Young enters the game (to a huge reaction) and immediately makes an impact, throwing a rocket to Craig inside the Vikings 5. I'm going nuts wondering how much time is left, they REFUSE to show the clock. So frustrating. Young eventually scrambles into the end zone himself to make it 27-17. Holy crap was he fast. 4:01 left in the third. Tick tick tick...
So the lead's down to ten, Young has brought the crowd back into it, so what do the Vikings do? DEEP TO AC down the right sideline!! A spectacular leaping grab Tim McKyer for a gain of 44!
Put that on still-store, Cambot: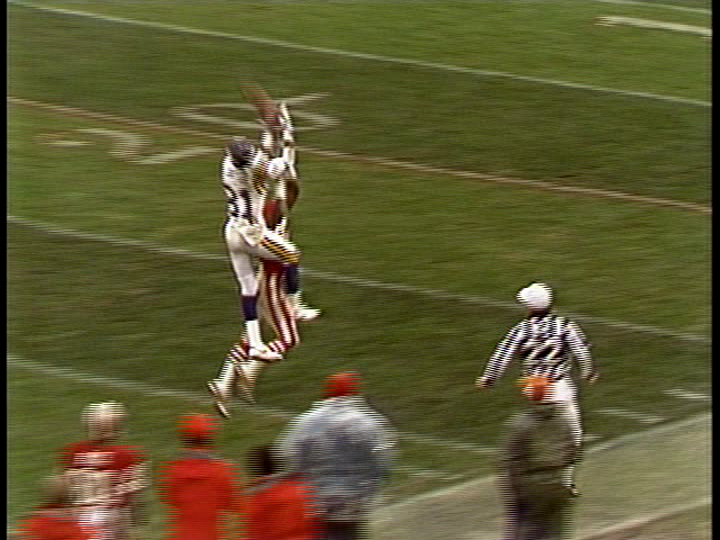 As you can see the coverage was right there, AC just went up and got it. Incredible, considering he's only 5'11" and 175 pounds, and he's making Larry Fitzgerald-type catches over All-Pro corners. And he just barely got his right foot in bounds.
That's right, eat it Jerry Rice.
After two clock killing runs and an incompletion, Chuck Nelson makes it 30-17. On the ensuing drive, Young rips off a 50 yard run down the left sideline as Theismann annoyingly rehashes the same point about Young's mobility OVER and OVER again. Shut UP already. Ugh. Thankfully, the Vikings D adjusts and keeps ends Doleman and Doug Martin back to contain, leading to two throw aways and an incompletion to Tom Rathman. On 4th and 10, Walsh opts to try a field goal from 48 yards (not even close), down 13 with just over 15 minutes to go, royally pissing off the crowd. Don't understand that one at all.
Vikings respond with what else, more AC, this time a 14 yard out, and a nifty screen pass to Allen Rice for a big gain followed by a 15 yard roughing the passer penalty. Leads to another Chuck Nelson try, this time from 46 yards... and he nails it!! Big game from him in these crappy conditions, 4 for 4 now. Tim Ryan calls him "a good mudder." Okay then.
Meanwhile, it starts to sink in. 12 minutes to go, 16 point lead. Three possessions. I'm guessing this is when the guard for a lot of fans went down. They could actually do this. Meanwhile, Theismann explains in the tone of someone who just discovered the Earth was round, "The 49ers actually have TWO opponents right now, the Vikings, and the clock!" Even Tim Ryan wants to cut his mic off.
The Niners roll downfield, eating up a lot of time in the process. Young nicks up his left foot, mercifully compromising his speed. Another great stat demonstrating the Vikings defensive brilliance: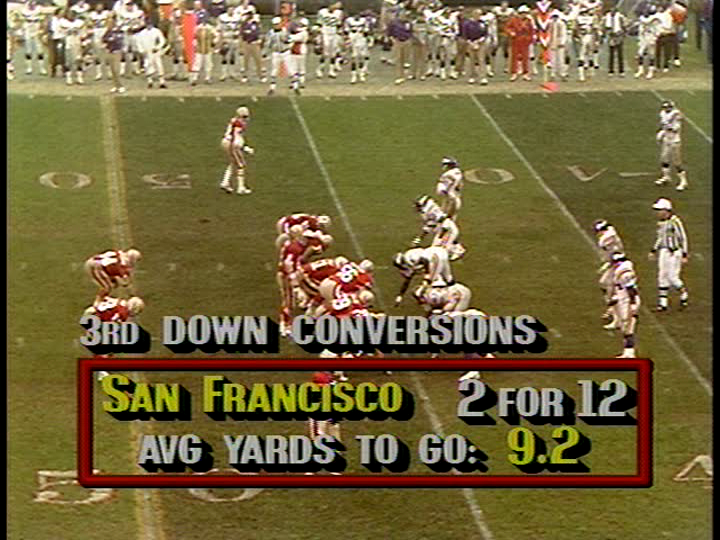 The very next play, Carl Lee picks off an overthrown Young pass!
Fans are filing for the exits!! NFC favorites my ass! Vikings kill the clock with 3 runs and punt at 5:55 left in the game. A once every ten years upset in the making. In the 00s, it was 6 seed Pittsburgh beating the 1 seed and prohibitive favorite Colts in Indy. In the 90s, it was 6 seed Jacksonville beating the 1 seed and prohibitive favorite Broncos at Mile High. In the 80s, it was this game. Fuck yeah!
Fascinating tidbit here regarding the replacement players that had played the first 3 games of the '87 season. Remember, the Vikings scabs went 0-3 -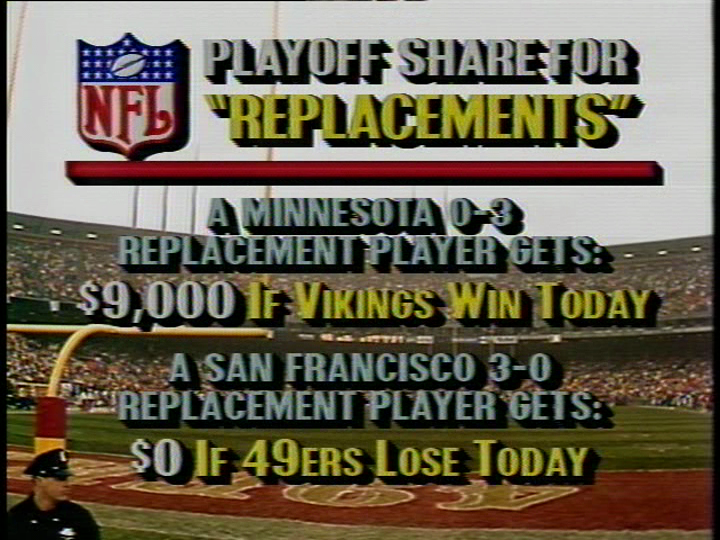 Young gets free from Keith Millard and finds TE John Frank at the 5, who runs it into the end zone. 33-24 with 3:42 left. Onside kick coming. Even though it's still a two possession game, every Vikings fan's heart is in his/her throat watching this at the time. And... Steve Jordan comes up with it!
A Perfect onside recovery
.
Another "oh God no" moment as Allen Rice fumbles but was ruled down. The anxiety never ends. Still, another HUUUGE break. Feels completely foreign to me.
Thankfully, the Vikings top it off with the perfect FU deep pass to who else, AC! 31 more yards down the right sideline.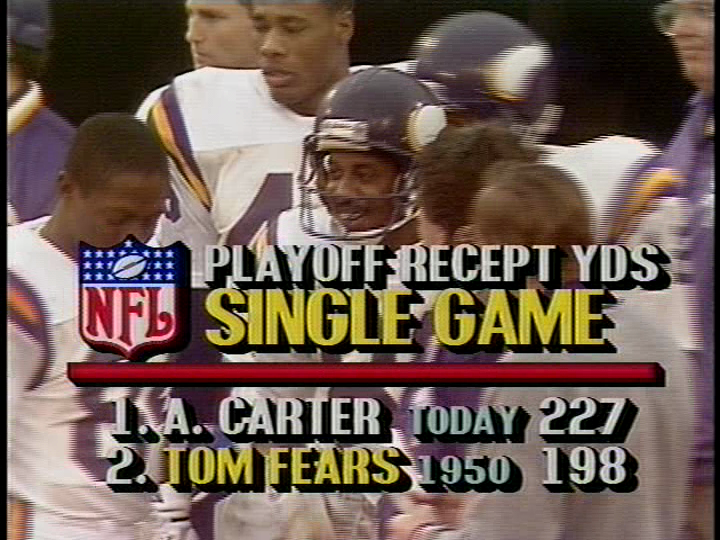 Again, Jerry Rice has 2 catches for 20 yards.
Three clock killing runs (including DJ Dozier tripping over Wade Wilson's feet) bring it down to 28 seconds, and Nelson hits his 5th field goal to make it 36-24. The Vikings are high fiving on the sideline! CBS is rolling the credits! The stadium is half empty! Tim Ryan calls this "absolutely startling!" THIS IS AWESOME
Unfortunately, Jerry Rice does get one more catch for 11 yards, but still... shut DOWN. Your final score...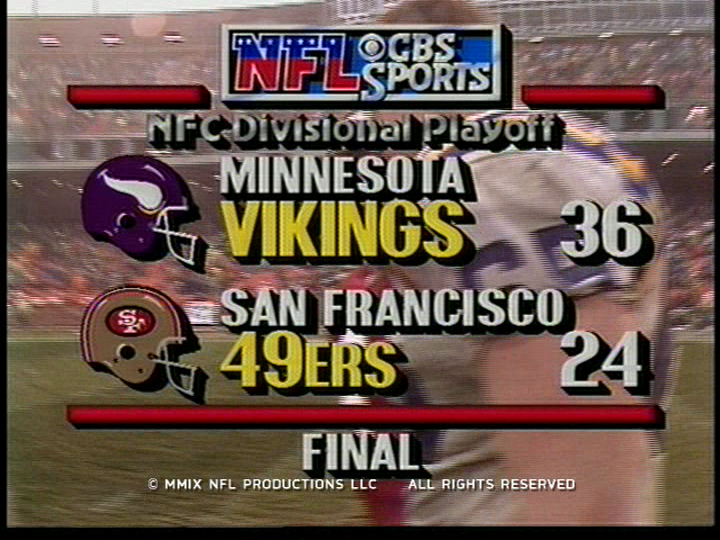 Final box score here.
Not much else I can add to that. See? Bye weeks aren't so bad.